5 Tips to give your Fall Home Decor a Fresh Look
When everyone thinks of Fall they imagine cozy throws, turning on the fireplace, and hanging a new wreath on the front door; but there is so much more you can do to bring that fall feeling to your home décor! I am not talking garlands and displays of pumpkins and colorful leaves…I am talking about things that require a bit more of an investment but are oh-so-lovely to add to your home! Layers, textures, colors—all these things can be used in creative ways to prepare our homes for the winter months in the most stylish, yet classic way possible. Check out some timeless ways to give your Fall Home Decor a fresh look!
Do you feel like your home is "missing something" but aren't sure what that is?
5 Keys to Make Every Room Feel Like Home
Yours FREE when you subscribe to my Newsletter!
1. Add in Color
Adding in color can be done in subtle ways, like throw pillows or artwork, or can be as bold as repainting a whole room. But there are certain colors that not only evoke a "fall" feeling, but are also on-trend and will give your home a breath of fresh air…cool, crisp, and invigorating air 😊
Colors that are very prominent right now are in three color ways:
So lets say you have a gray sofa with blue pillows. Add in one of these colors in a toss pillow or accent vases or even a throw and... voila ~ a small fresh change for your fall home decor transformation!
"But do I have to do it everywhere" you ask?
Whichever color you choose to go with, make sure your spread little touches of it throughout the rest of your main floor. If it is in a bedroom, well, then it can just stay in the bedroom! You don't have to change everything, just changing out a few things can have a powerful impact on a space. Here are some ideas:
Paint your powder room one of these bold hues
Add in a velvet accent chair in a room of your house that has one of these predominate hues
Buy some fresh flowers (or realistic looking fake ones too) and set them in a place where you—and others—will enjoy them
Recover your kitchen or dining chairs in a bold hue—and don't be afraid to bring in some contrast!
Paint a key area in your home in one of these colors, or even an accent wall—or a ceiling can work too!
*Disclaimer…Accent walls are not always the best way to add in color. There are rooms where it works very well, and rooms where it doesn't! Not sure if your space is right for an accent wall? Send me a picture and I'd be happy to help you decide!
2. Add Gold
Gold is everywhere! You can add in touches of gold with accessories, sure, but you can also make a statement with lighting, cabinet hardware, and even a faucet! Imagine a gorgeous vanity light with a stunning faucet…and your bathroom now feels like a luxury hotel, for less than it costs to stay a night!
I am seeing gold in sofas, ottomans, chairs, and table inlays. Where nailhead trim used to be the way to dress up furniture, now it is these gold metal strips that bring drama and make it look haute couture. It is the next wave in furniture design…so chic!
3. Add Texture
This isn't anything new, but just like you layer your clothes for the colder weather, you can layer your rooms as well! Wool fabrics and throws, boucle, leathers and hides, rugs that have woven designs, tassels, plaids (my fall fave), and natural baskets are some great ways to bring texture into your spaces. I have seen light fixtures that look like woven baskets; woolen throws with pom-pom tassels that invite you to curl up with a book; plaid pillows and ottomans that add that gentlemanly flare—but think cozy plaid shirt rather than stiff Scottish kilt. It's ALL texture and implementing them into your fall home decor gives you lots of options and fun ways to add those layers!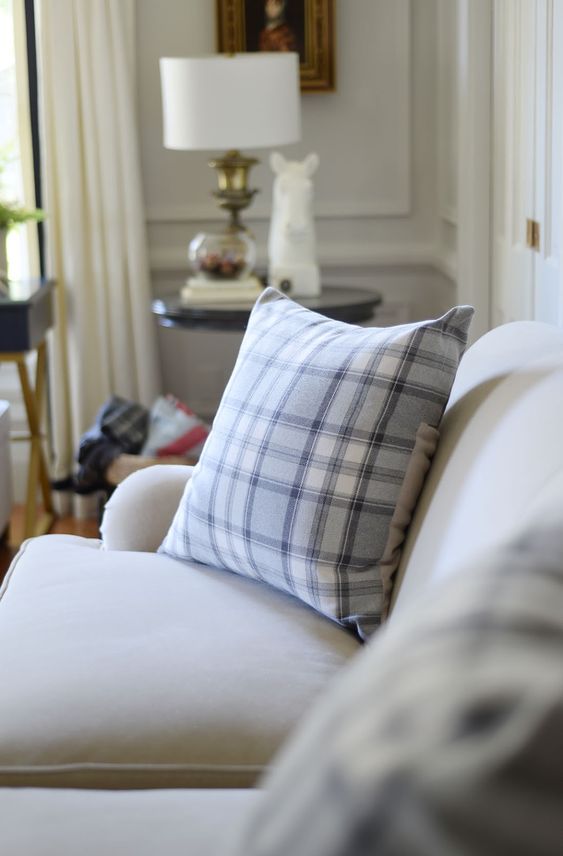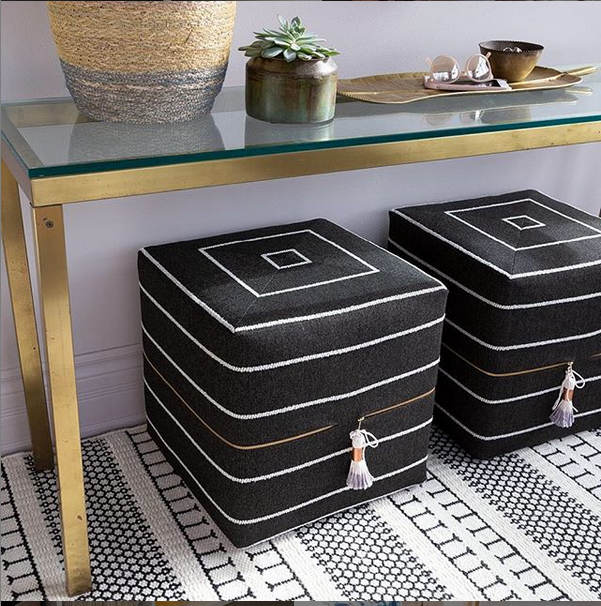 4. Edit, edit, edit
This is SO hard to do, but a large glass vase with tree branches makes more of a statement on your front hall console then a bunch of little things all grouped together. Instead of trying to make a statement on every available surface of your home, pick one or two spots to feature…and that's enough! Put out things that bring you joy, cause you to pause and reflect on good memories, and perhaps have a touch of nature.
5. Add Natural elements
Speaking of Nature, it is BIG in home design. Wood floors have gone from the deep espresso to almost the complete opposite where White Oak is the new popular choice. Natural wood accent pieces are everywhere! Think dressed up tree stumps as tables, wood slices in centerpieces, dining tables with live wood edges, wood mixed with black pipes for industrial looking shelving units, feature walls in bedrooms and bathrooms for the rustic farmhouse look…I could go on! There are plants, and exposed brick…and…and…and!
But nature can be in the small things too.
Natural things can be marble coasters or a slab on an accent table. A large basket to hold your favorite plant. Enlarge a picture of the beach from your vacation and hang it over your sofa…yes…LARGE! I see that sort of thing everywhere! When we were on vacation the kids all picked rocks from the beach to bring home and we put them in a large glass vase to remember it by …why not?
Freshening up your fall home decor doesn't have to be a huge shopping trip to your local mall or favorite home decor hang out. Focus on a few key things that will work with your home and with your budget. Whether you go big or just add in a few accessories, making our homes personal, cozy, and intimate reflections of ourselves is a good thing…a peace filling thing…and bunker down and maybe actually enjoy the cooler months kind of feeling! Winter is long enough here in Canada, so make your home be that much more inviting as we prepare for this season 😉
Image source below here
Feature Image source here
Never miss an update!
Sign up now for our Quarterly Design in Real Life Newsletter & receive a FREE gift!
Not only will you keep up to date with all our articles, you'll also be eligible to download our
Designer's Style Guide:
5 Keys to Make Every Room Feel Like Home
For Free!