7 Tips & 40 Ideas to Refresh your Home for Spring
When winters are long, cold, and gray I can't help but thing that Spring is coming…color is coming…freshness is coming…just hold on! So with the recent onslaught of wacky winter weather, I thought that maybe we just need to see some new ideas for spring and think of small, simple ways we can refresh our homes—even in the dead of winter!
Do you feel like your home is "missing something" but aren't sure what that is?
5 Keys to Make Every Room Feel Like Home
Yours FREE when you subscribe to my Newsletter!
1. Bring in some plants
Whether or not you have a green thumb, plants bring life into your home. It can be succulents on the kitchen window or a larger plant in the family room---there is something about that green living thing that just brings life into a blah space like nothing else can! I'll admit, I am not the best plant person and am quite proud of the fact that I have kept the one living plant in our house alive for 2 years; with that success and I'm considering getting a few more. Cross my fingers that they live!
There are other ways to bring greenery into your home. If you purchase a wreath for your front door, why not also have one for inside the house? A wreath looks great layered over a mirror or even hanging on the inside of the back door—why not?
Then there are fresh flowers…I know they are a bit of a splurge, but a colorful bouquet can make one dramatic statement or be used for several smaller arrangements you can spread throughout your home. Nothing says spring more than a bouquet of tulips…or roses…or daisies…or whatever makes your heart happy! Leaves and fronds can also have the same effect—ferns, palms, and banana leaves look great in a vase all on their own.
Fern/Asymmetrical Wreath/Lavender Pot/ Forsythia Wreath/Fiddle Leaf Plant
2. Change your pillows
Changing up your pillow selection is a sure-fire way to refresh a room. You can move the bedroom pillows to the living room or the family room pillows to the guest room, but sometimes something new is just the way to go! There are so many patterns and colors to choose from—you can have three solid colors, or three different patterns or a mix of both; but whatever you do, make sure the colors and patterns all work together. It can take a bit of practice to get it right (even I can take more time than I'd be willing to admit in the pillow section making sure the mix is what I am after) but keep trying!
If you really want to be economical, just purchase inserts and the covers separately; then when you want to change, you just change the covers and voila…a new look! If you can sew them yourself, then you're laughing! Pillow covers are super easy to make and since they take just a yard of fabric, you can really save a bundle by doing it yourself. (Not to mention they take a lot less room to store that way too!)
All Pillow Photos & Cover shot from Tonic Living's Instagram (check them out!!! ...custom cushions, drapery, and all sorts of very lovely things!)
3. De-clutter your surfaces
I know this can be really hard to do…and even harder to maintain…but it really does make things look so much better when there is less to look at! It can take some time to figure out where exactly to put all the stuff we have, but if you go through and remove items you don't really use much then it can give space needed for what you actually do use on a regular basis!
Ask yourself:
What appliances can I remove from my kitchen counter top?
What decorative items are collecting dust and can have a "time out" in the closet for a bit? Can I find a decorative container for (…insert item here) instead of just seeing ugly packaging?
Is there a better way to organize my mail/flyers/school papers so that they don't end up …here?
Whatever your problem areas are, try removing the offensive items and getting the surface to look the way you want…and then find the homes for what you no longer need. You might surprise yourself!
4. Re-evaluate what is hanging on your walls
I am not saying go out and buy new artwork…necessarily…but rather to see if you can change things up a bit! Maybe get something new for over the sofa, move the mirror to the front hall or start a gallery wall in the family room with all those pictures you love (in a folder…on your laptop…and your phone…that you have always been meaning to get to).
Layer pieces to create interest. Why not lean a painting in front of the mirror on the mantel or a more decorative mirror in front of the plain one in the powder room? Or buy plain white canvases and have your kids make some art for you. Or visit a flea market and purchase something in a vintage frame.  Let your creative juices flow and try something NEW! Buy a big piece instead of a bunch of small ones. Choose something colorful instead of staying neutral. If something has been hanging in the same spot for over 2 years consider trying something different…you will be so happy you did!
One piece of advice? The idea here isn't to fill your walls to the brim with stuff that visually makes your head spin. Just like a room needs a focal point--a place for your eye to rest--the same goes with your artwork. Blank walls in spots are a good thing if it leads your eye to what you really want people to see!
Ok…and one more thing…don't hang artwork too high on the wall. Whatever you have, the center should be at eye level (approximately 5 feet off the ground) AND relate to whatever is under it; for instance, place art or mirrors 6-8 inches over a sofa or fireplace. If the pictures are too small for that to look right, consider using something else that is the right size…it will make a huge difference!
6. Add some color
One of the best and quickest ways to refresh your home is to add color! Bold colors, pastel colors, or even black and white can add so much interest to your home. Most of us are pretty safe with our color choices, so adding a hit of color with our gray sofas, our brown leather sectional or the taupe living room we've had for years can be just the thing to make it all feel new again! I checked out three budget-conscious-yet-stylish chain stores and came up with three style boards loaded with some fabulous spring items you can consider adding to your home! Maybe these items will inspire you to change up the dining chairs or purchase new nightstands in your bedroom…or add fresh blush pink in your décor…here are some great finds from Pier 1, Structube and Urban Barn.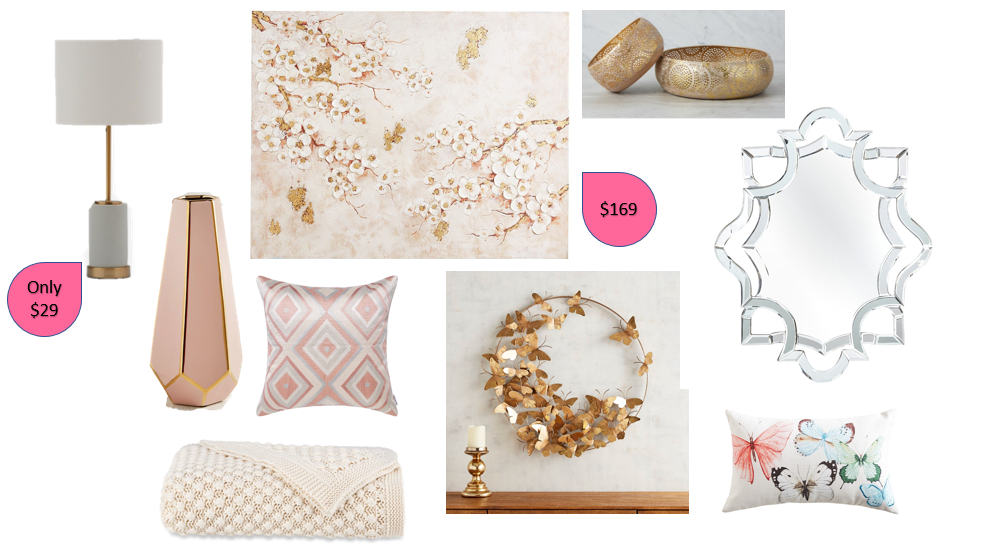 Bedside Table/Pillow/Pendant/Artwork/Beaded Mirror/Bowl/Chair/Table/Baskets
So here is my challenge for you…choose 3 things to change up…use what you have or go out and buy something new…but regardless…refresh your interior and feel excited about the home you live in everyday! A new carpet for your front all, a new plant for your bedroom or paint out that wooden chair in a new hue…just DO IT! And maybe Spring will *feel* that much closer 😊
To get some more Spring Floral Ideas, check out this post too!
Never miss an update!
Sign up now for our Quarterly Design in Real Life Newsletter & receive a FREE gift!
Not only will you keep up to date with all our articles, you'll also be eligible to download our
Designer's Style Guide:
5 Keys to Make Every Room Feel Like Home
For Free!