#Broadleaf Family Room Makeover
Most of us have this: a room in our homes that "has a lot of potential", that we use all the time, but isn't really done at all. Isn't really functioning at its best. Isn't really reflective of your tastes or what you REALLY want it to look like. There is stuff in in that room you dislike, and you've lived with it. Well, this family room was THAT room for this family.
Do you feel like your home is "missing something" but aren't sure what that is?
5 Keys to Make Every Room Feel Like Home
Yours FREE when you subscribe to my Newsletter!
Dark oak paneling, a brick fireplace, well used furniture and carpet meant it felt more like an 80's time warp zone than a space that the family wanted to be in. We had worked on so many other areas of the #broadleaf residence and now it was time to address one of the rooms they use the most--the Family Room.
The Before = Dark & Dated
Whenever I begin decorating a space, the first thing I look for is what the room has going for it. In this case, there was amazing natural light. The paneling was in great condition and the room was spacious so we could layout the furniture in a few different ways. Plus, there was a natural focal point...that fireplace wall! A cosmetic update was just what this room needed, so we addressed all the main areas and got to work!
Cosmetic Updates
There were a few key elements that we addressed, and I wanted to show you how we pulled this room together:
1) Paint the paneling
Painting out the paneling was #1 on the clients list and she sent me pictures to illustrate exactly what she was looking for. Even though to some, painting out the oak paneling would seem sacrilegious, it was the BEST design decision for the whole space. And we didn't stop there! The fireplace was clearly the focal point of the room and needed to be addressed as well. The red brick just didn't work with what we had already accomplished elsewhere on the main floor design, so painting it a lighter color was exactly the right choice for this home!
2) Change the Flooring
Next came the flooring. The rug had seen its day and really didn't have any life left in it and the homeowner wanted to bring in hardwood floors in this area. The plan for the overall home was to eventually change out the carpet on the stairway and up on the second level, so we knew that whatever stain color we selected for this space would also be carried out in the rest of the house, albeit in stages. We chose a beautiful medium brown maple flooring that wasn't too dark or too light. Although the current trends are to have very light floors, we didn't feel like that was what would work best in this space.
3) Upholstery
Obviously, the family room had a primary function. It was a hangout zone, and we wanted the seating and furniture arrangement to reflect that. Before the makeover, there was a larger sofa facing the television which sat on a media cabinet. There wasn't a lot of extra room for guests and the homeowner wanted to create more space. Her children were in their early teens, and she knew that hangouts were going to be a regular thing so she wanted to make sure there was space for everyone and the way the furniture was currently set up just wasn't cutting it.
The biggest thing on her wish list was a huge sectional sofa. She showed me images of massive u-shaped modular sofas and we used that as a starting point. Instead of shopping a mediocre sofa from Wayfair, we purchased a Canadian made sectional from Lofty Ambitions Homestore where she could customize the sofa firmness and fabrics to suit her individual needs. We went with a 10' x 10' L-shaped sofa, with a detachable ottoman that could be added on as a chaise (creating the U shape) or could be separated and used as an ottoman if needed. This one piece of furniture completely changed the way the family used the room, in the best way possible! Everyone loves to sit and lounge…even their pets!
This sectional was most certainly a splurge, and in my mind, completely worth every single penny. This sofa is built to last -from the frame to the foam to the fabric, it isn't a piece that will fade or slump or pill. Spending a large chunk of your décor budget on something that you are going to sit on, lounge on, nap on, binge watch on, for the next several years is pretty important. Going for a higher quality for a piece that is going to get this kind of use more than pays for itself in the long run.
Let me take a moment to explain my reasoning:
The high/low mix in decorating a room is something that is talked about a lot in design blogs and magazines, and it is always interesting…to me anyway…the reasons someone makes the decisions that they do. To some, a bathtub shipped from England is totally worth it, while to others spending over $1000 on a tub is a splurge.   It's all relative to your budget and to what you are accustomed to spending on any given thing.
Just as there is a cost per wear for clothing, the same principal applies to something as essential as a sofa. Someone will pay a pretty penny for a designer suit because they know that the fit, the fabric, the cut, and the quality matter-- all of those elements together means that they will have that suit for years and feel confident every single time they wear it. Knowing that they will wear this suit to so many functions over the years, it's worth the price because the quality shines through. It is most certainly the same with furniture purchases. Quality matters!
The Sectional we modified to customize the design.
4) Window Treatments
The other area where the client spent her design dollars was on the custom-made drapery. I don't know if you can tell, but this window is HUGE. It brings in a ton of light but when you are wanting to watch something during the day on the screen, it also brings in a lot of glare. As the homeowner loved the sunshine, she wanted to have the panels not cover the window at all when they were open. This meant we had to extend the drapery rod almost 24" on each side of the already massive window to the curtains had a place to stack when they were open. Let me tell ya, that is a LOT of fabric!
As there were already custom drapery panels in all the main floor windows as well as the bedrooms, we wanted to keep the look consistent and knew that custom drapery panels were the best decision for this family room. We went to the fabric District on Ottawa street in #hamont and found this gorgeous floral that brought in many of the colors that we had used in the home bar & lounge space we had designed a while back. These panels provided the only pattern in the room and weren't too busy visually, which the client really liked. If you have looked at any of the other #broadleaf projects there is more of one singular pattern in a space, keeping the overall look more tailored with color being used more creatively.
Where we Saved
Now we have talked a lot of the big design decisions that made this family room come together, but not everything was custom or expensive! In fact, there were some things strategically left alone so that the decorating dollars were focused on what really mattered. Take the ceiling for instance. We left the beams in their original wood color, and we also made the conscious decision NOT to remove the popcorn ceiling. I know not everyone would agree with me on this, but we felt like it was a small detail that she could live with so that she had more funds to work with on the design elements that really mattered—like that sofa!
The other things that we saved on was by incorporating some pieces she had purchased for a previous project that could be re-purposed. An example of this is the massive piece of artwork that had been sitting in a smaller bedroom and worked much better in this space. The colors were neutral enough to work with the room's palate, and the one large piece made its own quiet statement in the room. Also, the swivel chair brought a punch of color and was the perfect fit for additional seating in conversation or movie watching! The side and sofa table were also budget finds and added warmth and a gleam of gold that worked perfectly with everything else!
Accessories
Now I can't say a room is finished until all the accessories have been added in for that final layer of feeling "at home". Styling a room is something that takes a bit of skill because you want the room to look lived in, curated, comfortable, stylish, and yet not stuffy or like it came out of a showroom. Some designers love it, some hate it, but for me, it is really where the whole space comes together in perfect harmony…can you tell, I LOVE this part!
The lamps, the cushions, the side tables, the bookshelf objects…each and every one of these pieces were hand selected for this space and look like they have been around for ages. The design on the table lamp base echoes the Deco vibe we have in the living room. The floor lamps are a combination of gold and marble and keep the sofa table free for snacks and drinks on movie night. The bookshelves have family memories displayed, along with fun pottery and unique objects. More cushions were brought in (some came with the sectional) to add pattern and texture and softness. Not to be forgotten, the light fixture and the area rug really finish off the room and give it polish.
It is through this step of styling and accessorizing that a room is finally "done".  Always leave room in your budget for these final details because they literally MAKE the room. A room without artwork looks bare and like you just moved in. The rug on the floor needs to be the right size and tuck under the sofa. You need enough light fixtures or lamps, enough pillows, and enough books as these items are the BEST way to make a room feel like home.
The After
So, from dated and dreary, to decorated and delightful, this family room makeover is officially done! It IS functioning at its best and it IS reflective of my client's tastes and IS REALLY what she wanted this family room to look like. No more living with anything she doesn't like…she loves it all …and so does everyone else!  Take a look and let me know what you think in the comments.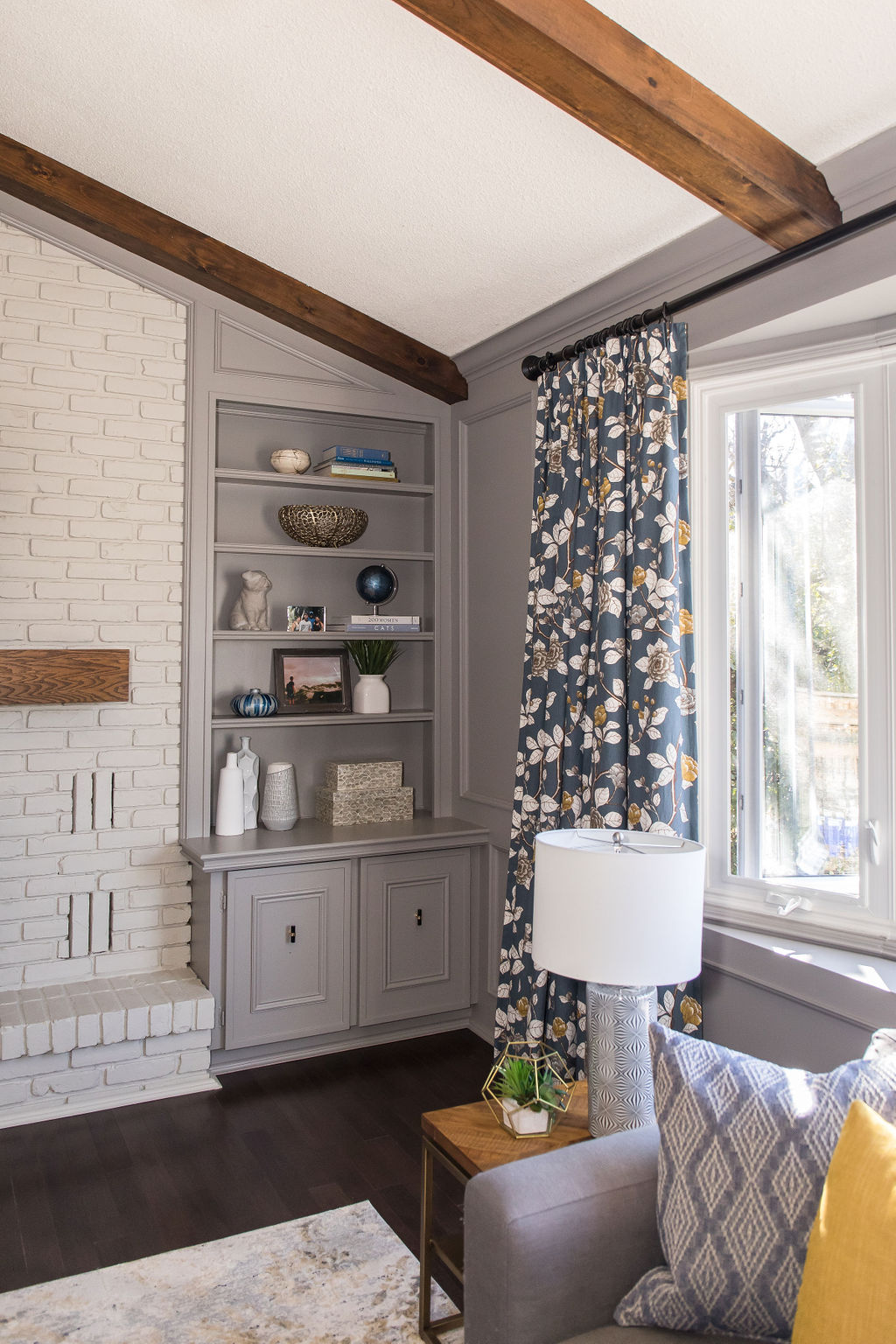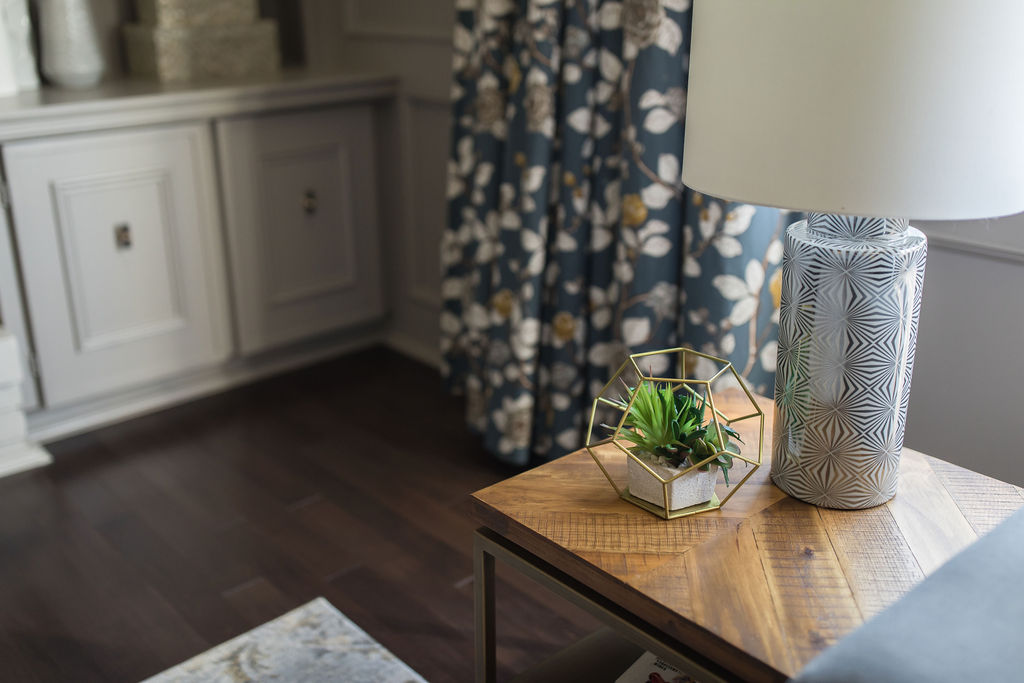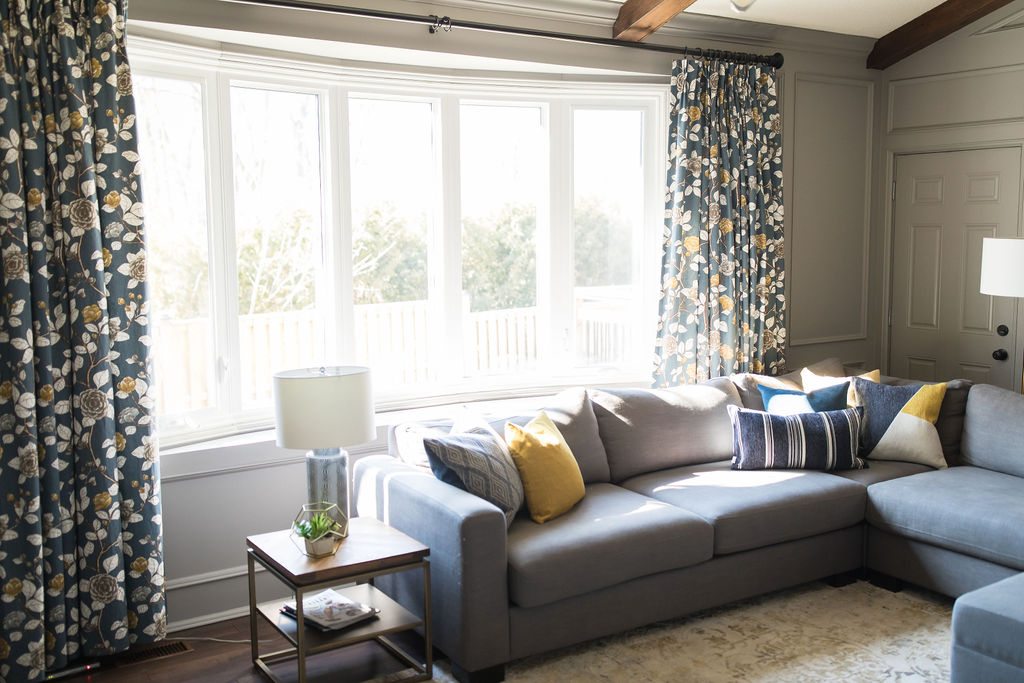 All "After" Images taken by the very talented @pam_tenwestphotography
To see more of this #Broadleaf home, check out our Portfolio!
Never miss an update!
Sign up now for our Quarterly Design in Real Life Newsletter & receive a FREE gift!
Not only will you keep up to date with all our articles, you'll also be eligible to download our
Designer's Style Guide:
5 Keys to Make Every Room Feel Like Home
For Free!