Dorchester Project: Built-in Tub Bathroom Transformation
We either have one ourselves, or know someone who does: A monstrous built-in tub from the 80's. It's tiled. It has steps. It eats up tons of space. It can be in the corner or take up one end of the room, but whatever the configuration, it's bossy and people hate it!
Even if you love to take long, soaking baths each homeowner admits that they do not love the visual aspect of these built-in tub "features". But…they may not be convinced that a free-standing tub is the right fit for them either. Can you really LOVE a built-in tub AND make it look beautiful in a space that feels current and not dated?
The simple answer is YES!
May I present to you our Dorchester Project.
When we first saw this space, we saw the typical corner built-in tub, along with the warm honey oak vanity, brass fixtures, enclosed shower, and a very outdated aesthetic. The space hadn't been touched since the owners had built the home 30 years prior, and they knew it was time to modernize the space.
Do you feel like your home is "missing something" but aren't sure what that is?
5 Keys to Make Every Room Feel Like Home
Yours FREE when you subscribe to my Newsletter!
Their biggest concern was the tub. They loved using it and were afraid that it was going to give out on them…and they didn't want that to happen. In the process they wanted to design a space that would flow with the rest of their traditional home but not need another update for a long time. Keeping the built-in tub for 2 was their #1 priority, but the other part of the mission was to create a master bathroom that was easy to clean, and to play around with the layout a little to see how to increase the size of the shower while working with tub.
Here are some before pictures to give you a visual of what we had to work with.
Now, some of you may say "WHY would they choose to have a built-in tub when a free-standing option would take up so much less space?"
Believe it or not, I have met several homeowners that prefer the built-in model. They feel that a free-standing tub will not give them the space they need and be more difficult from a cleaning perspective as dust would accumulate around back. As the client's wish list is always paramount to what my own preferences may be or what is trending, the built-in tub stayed!
In the original layout, the tub was in the corner giving them a 80"+ double sink vanity; however, the shower was enclosed making it feel like this dark little box, and we really wanted to open that up. So, the first item that really needed to be selected in the space was the tub insert as its size would determine how the rest of the space would be laid out.
After much searching, assessing the interior and exterior measurements of the tub, the jetting options, etc. we settled on the Chi drop-in tub from Valley Acrylic and created a built-in tub that would fit its massive 42" x 72" size. We played around with a couple of different configurations but settled on keeping the tub along the back wall, so no floor space was wasted; we also didn't want to keep the corner tub option as it just made the space look too reminiscent of what was there before…we needed a change!
Once the layout was determined, and the shower and 72" vanity size was agreed upon, we moved on to selecting the tiles, vanity, and lighting.
As this homeowner wasn't fond of shopping and knew that embarking on a renovation would mean many design decisions, she hired us for our Full Design Services. We talked at length about the finishes they preferred, and some of the features they did (or did not) want to have included in their finished space.
Once a design concept was established, we went to showrooms and did all the legwork to put together a design presentation that showed them some different options to achieve the look they wanted.
High on their wish list along with the built-in tub was surfaces that were easy to clean. That meant cleaner door profiles, light fixtures that encased the bulb (and were easy to dust), and larger floor tiles. The surround of their previous tub was tiled, so we also wanted to use stone and avoid all the grout lines around the tub.
Here are 3 Design Concept Boards we showed the Client:
The Final Design Selections:
During the Design Presentations, we had all the tile samples on hand, pricing for faucets and lighting, as well as these design concept images to help them visualize how the end result could work together. With all this at their fingertips, it was not difficult at all for them to select the pieces to work with…no showroom visit, no endless tile options to consider, no difficulty narrowing down what they liked best. The Design Presentation brought it all to them! AND… for someone who doesn't like to shop, the homeowners found this process to be so stress free and liberating!
We secured our Contractor, worked on the drawings needed for the trades, and began procuring the items needed BEFORE demo day so we had everything on hand and ready to go!
Final Layout
Final Elevation Drawings
The re-design of this 80's bathroom checked off everything on the homeowner's wish list:
2-person built-in soaker tub
Vanity with Drawers instead of doors
Larger shower with Custom Glass
Stone façade on the tub surround that also provided access for the tub pump
Easy to clean surfaces with flat front drawer faces, simple lighting silhouettes, and larger floor tiles
Opening up the water closet area
Heated floors
Moen Faucets & Shower system
Skirted toilet…again, super easy to clean
Wall tile in all the right places so the wiping down the walls was simple
We were SO happy to be on hand with this client, giving them personalized service from the concept through to the completion of their renovation.
Were there some hiccups in the process? Yes… there were. But nothing that we couldn't talk through and problem solve.
The lighting location had to change because the wall sconce was too close to the wall for proper installation
The Custom Glass shattered in the kiln, so we had to wait to have it re-fabricated
The plate mirror cracked after installation
The Tub faucet arrived scratched, so we had to order a new one
The shower bench took up too much space, so we had to re-size it and adjust a few other tub measurements to keep the shower spacious.
Les Anderson Construction worked with us on this project and was amazing through the process to navigate every question and adjust as needed. Hiring the RIGHT contractor with a great team is makes all the difference in your home renovation!
To say that we are thrilled with the outcome is an understatement! I love how this bathroom with an 80's built-in tub has been completely transformed into an oasis that is sleek, trending without being trendy, cool & classic. The shower is no longer a cave, the 72" vanity with drawers offers lots of handy storage, and the heated floors means warm feet every single day.
And the built-in tub…well, it is no longer an eye sore-to say the least! It is spacious, luxurious, and a statement all on its own—in the best way possible.
Here is what our client had to say about the process of working with us:
"I needed help with ideas and "how to's" for changing up our ensuite. I had a general idea but no knowledge of how to go about such a project. For us it was huge and overwhelming. Emanuela came up with lots of ideas and options for us to choose from. She had the knowledge needed to take the project from "dream" phase to reality - plus the connections to actually make it happen.
When Emanuela presented us with a design we liked, and we had peace of mind that the end result would be something we were happy with. Emanuela took the time to understand us and what we wanted. She didn't try to push her preferences on us, but she did gently steer us if we were headed in an unwise direction by giving us reasons behind it. We highly recommend working with Bella Casa Interiors!"
And now…here are the After photos of our Dorchester project. The transformation is night-and-day!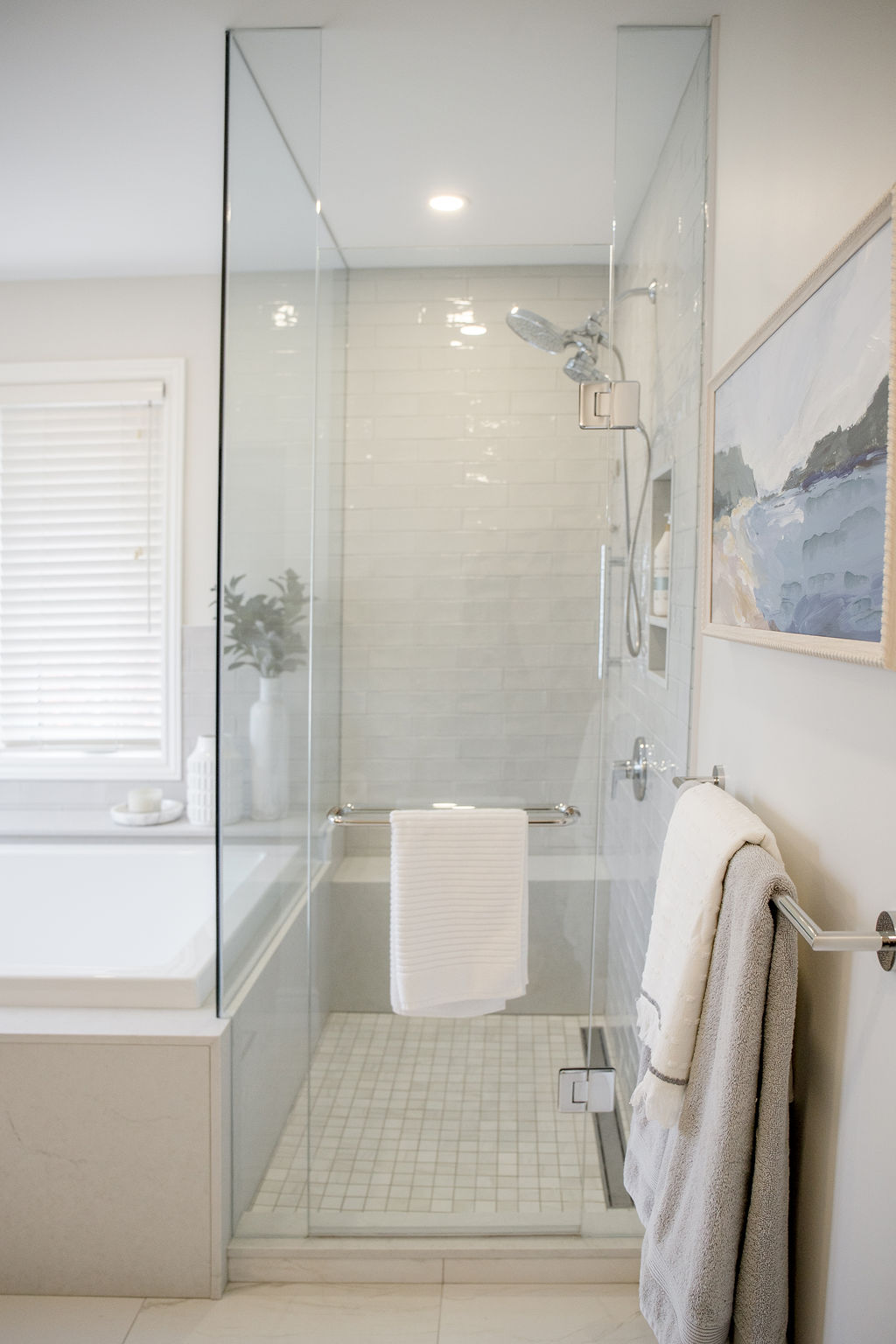 To see more images of this beautiful space, take a look at our Dorchester Ensuite Bathroom on our Portfolio page! You will find more of the design details in view, so it is definitely worth a look.
Working with our Full Design Service gives our clients confidence and peace of mind throughout their renovation. We are there to work out all the details, make sure all the orders and deliveries are successful, liaison with the contractor and trades, and problem solve any issues that arise.
No renovation is completely stress free, but knowing you have someone in your corner to listen to your concerns, navigate all the minuscule decisions, and do all the legwork for you gives you some breathing space that you need during this transitional time. We are there for you from beginning to end! Want to work with us for your next home renovation project? Reach out to us on our website or via email and we can get the process started!
If you love the look of our Dorchester Project, then you will definitely want to head on over to our Zen Master Retreat to find another built in tub in a gorgeous Rustic Modern Chalet-style home. You won't be disappointed!
I hope you enjoyed this Master Bathroom renovation. I'd love to hear your feedback in the comments--let us know what you thought about it!
Live Comfortably. Live Stylishly. Make Home Personal.
Never miss an update!
Sign up now for our Quarterly Design in Real Life Newsletter & receive a FREE gift!
Not only will you keep up to date with all our articles, you'll also be eligible to download our
Designer's Style Guide:
5 Keys to Make Every Room Feel Like Home
For Free!