Injecting Personal Style to Your Home: Newport Drive Reveal-Part 1
Ever wish that you could revamp your home in one fell swoop? You see so much you want to change, yet don't know where to start? You have an idea of your personal style but don't have the foggiest clue as to how to pull it all together? You have a mish-mash of furniture but don't really know what "your look" is exactly? Neither did these clients for our #NewportDrive project!
I know so many of us who are in the same boat. You are ready to invest in your home, but need some guidance as to where to look, what to change, and how to bring out your OWN personal style in your home. Getting that mix right, making the good decisions the first time, and managing your budget can all be a challenge for sure, but to a professional it can be a piece of cake…well almost! 😊
Do you feel like your home is "missing something" but aren't sure what that is?
5 Keys to Make Every Room Feel Like Home
Yours FREE when you subscribe to my Newsletter!
The words that described what we wanted to achieve for this home were neutral, calm, unfussy and classic. Their personal style was not currently reflected in their space which was filled with black leather sofas, and dark wood on the cabinets, floors & dining furniture. They had collected furniture that didn't really flow together well, the flooring needed to be addressed and the bathrooms were unattractive and very builder basic.
These clients had lived in the house for about 10 years and knew they needed an update, so at our first consultation we determined the priorities and came up with a plan of action for the home:
1.Kitchen: Keep the cabinets and the counters but update them using paint and new hardware. All appliances would remain as well. The existing brick backsplash was dated, so they wanted something that was more current, but also worked with the granite counters and would appeal to a prospective buyer, should they sell the home in a few years.
2. Flooring: Well…there was tile in the main entrance & kitchen, hardwood in the living room, and back to tile in the dining space. Makes sense from a practical perspective but not from a visual one! The flooring changes actually made the space look smaller and disjointed, so we decided to keep the tile in the front entrance and powder room only and replace the rest with hardwood flooring—even in the kitchen!
Side note: I know this decision alone can be a hot topic for many couples, but in this instance, it made perfect sense. They don't have children or pets at this point, and as they also don't entertain frequently the maintenance required was something they could easily manage. And it is so much warmer!!!
3. Furniture: Replace the dining table and chairs, as well as purchase all new furniture for the living space. Because of doorways and the fireplace, there wasn't really a lot of options to consider for where things would go, but we did have to choose items that suited the scale of the room (meaning nothing oversized). We also wanted to add in an area rug and some type of shelving flanking the fireplace for display.
4. Lighting: Replace most light fixtures and add in pot lights.
Here are the before shots of the main floor:
Now that we had a plan, we got to work! We sourced hardwood flooring from Sarana Tile and found a color and finish that matched the wood staircase very well, but without the red tones that the original flooring had.
In the kitchen, we hired Spray it Like New to paint the cabinetry in their trademark furniture grade lacquer for the longest wear possible. They are a little more pricey than someone who just uses a sprayer as the actual finish is much more long lasting and durable than a regular paint would be. With traditional painting methods, wear can begin to show after a year, and if they are not properly prepared, chips and bubbling can happen as well. I had that happen to us in our own kitchen and learned my lesson the hard way! I highly recommend spending the extra amount to get a rock-hard finish that will last for years…it is SO worth the investment!
The cabinets were painted in Manchester Tan HC-81, giving the whole space a completely transformed look. We also sourced the backsplash tile from Sarana…a hand made subway tile that blended seamlessly with the cabinetry and didn't fight the pattern in the granite counter top. This change alone made the main floor brighter and calmer—just like the homeowner asked for. Her personal style was beginning to shine through with this one (big) change!
Lesson here: Go simple when you have a bold counter top. I have seen the same granite with a multi-toned mosaic glass tile and it almost makes your eyes go dizzy with pattern! You want to avoid that if you can. Find your feature and work with it rather than compete...it will give you winning results every time!
Speaking of personality, as we discussed furniture for the rest of the main floor, we wanted pieces that also had a ying and yang of masculine and feminine style. That is a balance that is not easy to achieve and sometimes needs a trained eye to find the right selections that suit both the man and the woman of the house. He was more on the modern side, and she liked things with a French flair.
So how did we make this happen for them and find THEIR personal style?  I put together a few mood boards to show them some options of different furniture styles and how they could work together for their living room. What this does is give the client a really great visual of how the room can look once completed. They don't usually pick one board exclusively, but rather individual pieces from each option and we blend them together in a way that works. To see more examples read this post on the subject!
Another thing I should mention: The lady of the house is also from Columbia and they had purchased a couple of VERY colorful paintings that we wanted to incorporate into the décor. So calm, neutral tones paired with very bright, very colorful artwork that was um…quite the opposite of what she said she wanted to achieve!!!
Was this a nightmare? No.
Could we make it work? Yes, absolutely.
Does it look disjointed? No not at all!
So how did you do it, Emanuela? (…cause I know you are asking)
Well, let me tell you!
As I said above, your home is YOU. It should reflect who you are, what you love, places you have been, and how you want to live. Injecting color in small doses spread around the main floor was done in a strategic way that also blended with all the neutral tones and didn't feel jarring in any way whatsoever!
Let's take a look at the foyer.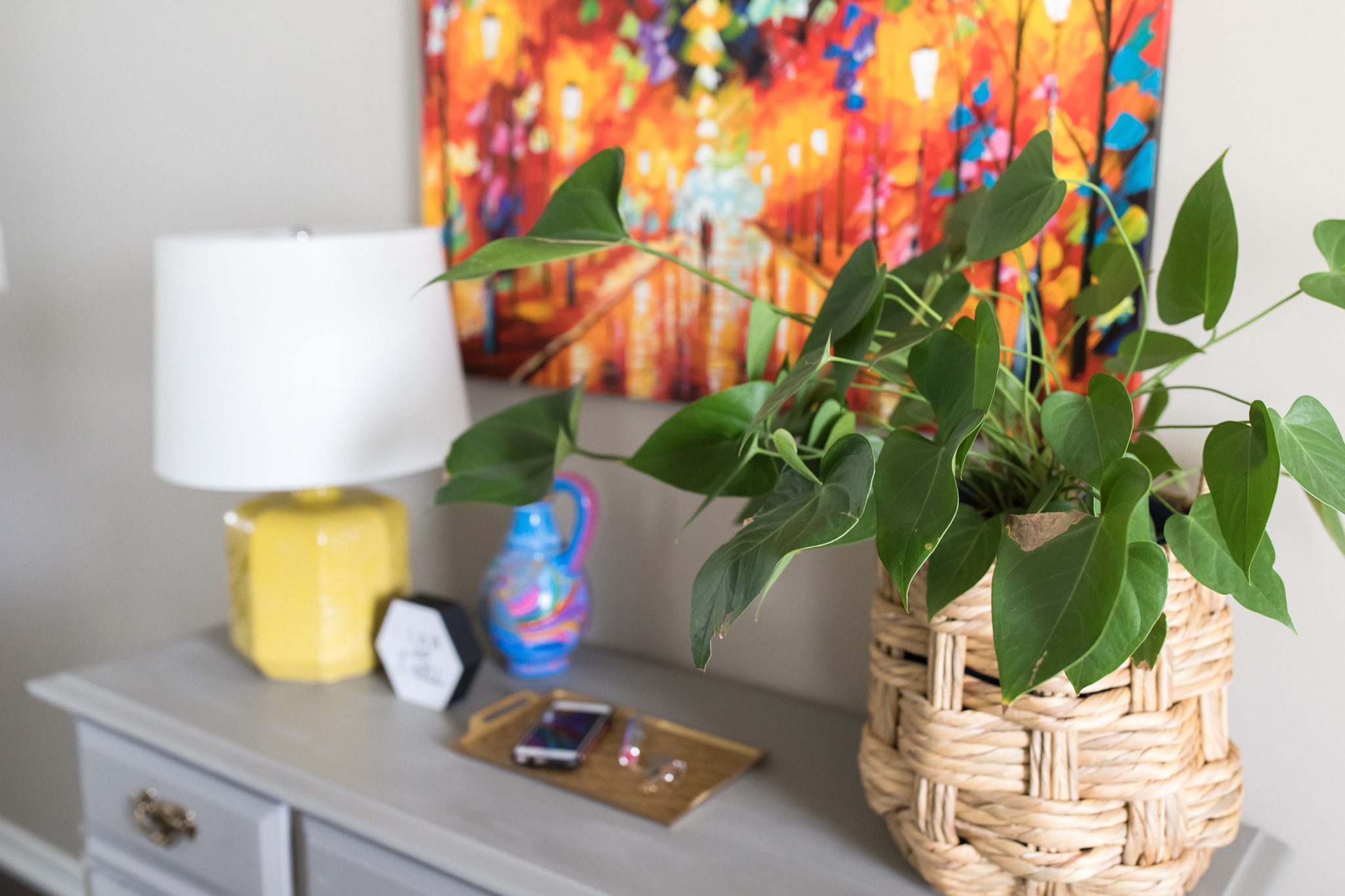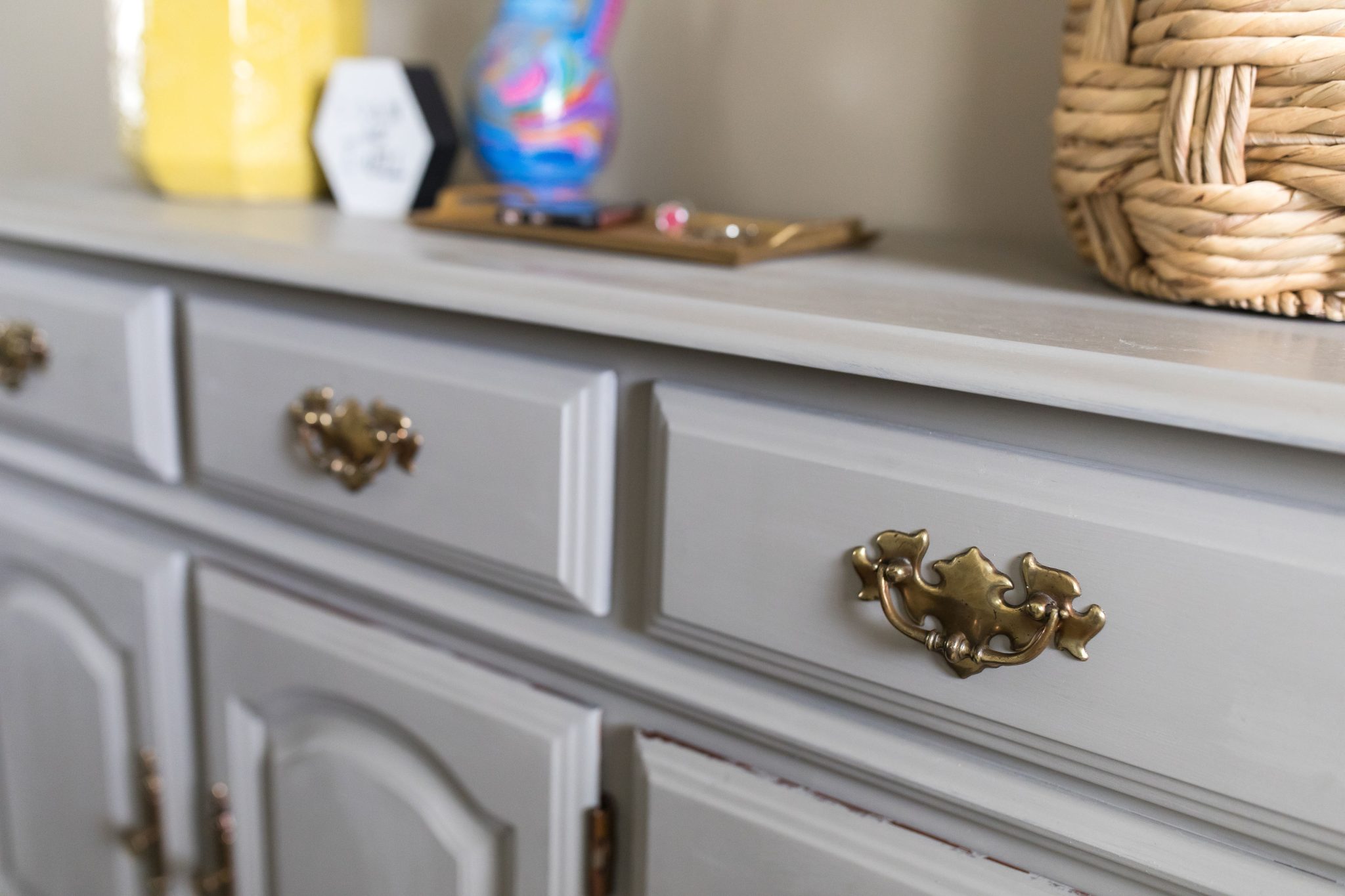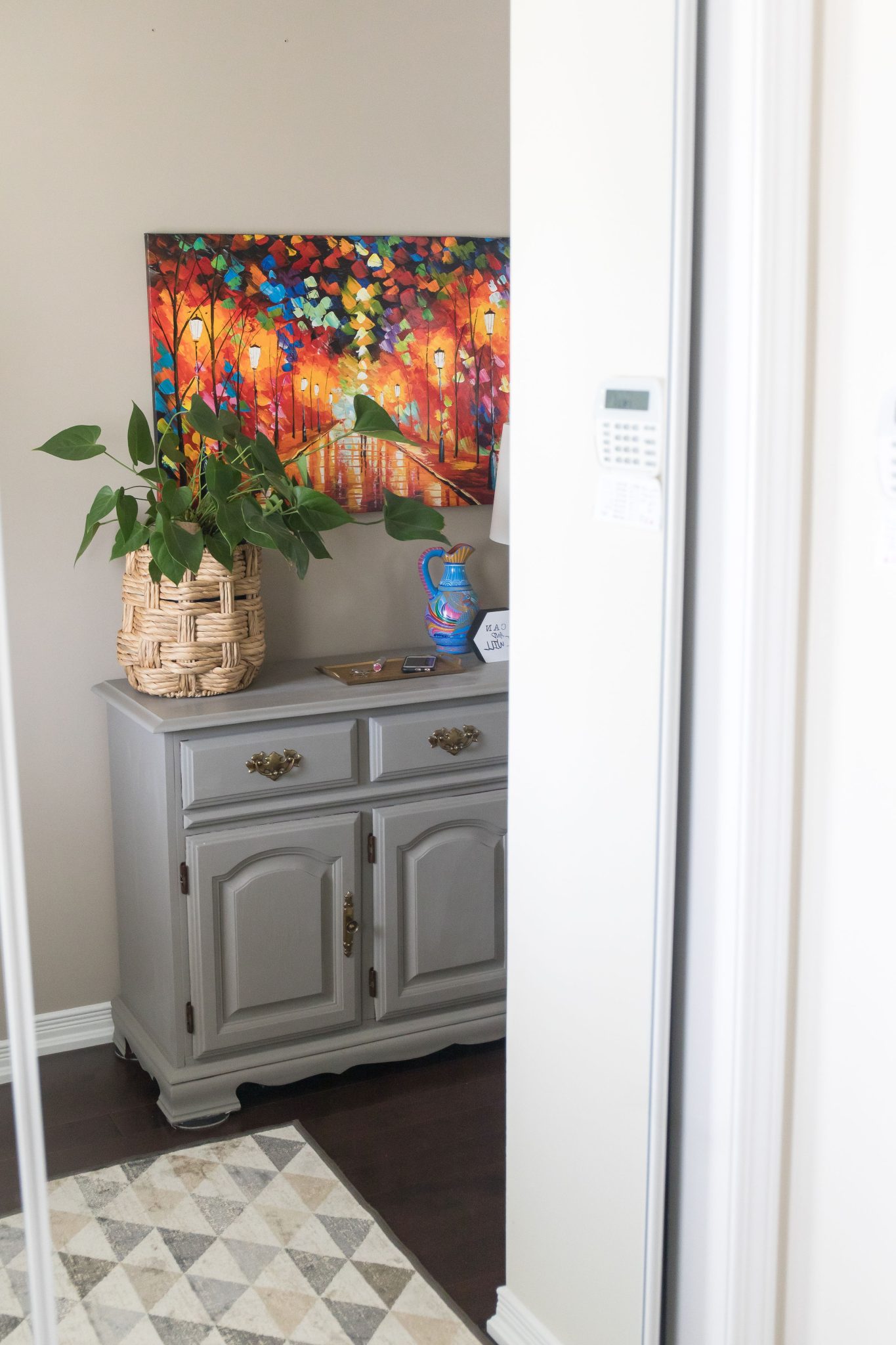 We started off with neutral floors and walls and added in a sideboard that we had repurposed from the dining room; it also had a fresh coat of chalk paint also in a neutral color. We hung one of the pieces of Colombian artwork from Leonid Afremov and brought out ONE color as an accent and used it through the main floor in small ways. The warm yellow tone is in the lamp in the front hall, as well as on toss cushions the homeowner already owned that we used in the living room and a chevron patterned throw on the ottoman. In the dining space, we kept the chairs neutral to flow with the upholstery in the adjacent space, and then hung the 2nd piece artwork on the wall. That's it!
It doesn't sound like much but because the use of color was well thought out, it doesn't overpower anything but actually works with the neutrals and is STILL calm and unfussy like the homeowner requested! The color story flows throughout the space in a way that doesn't overwhelm, and still injects that South American vibe that is the essence of who she is.  It is their personal style exemplified through the right choices. It sounds easy, but really it can be tough! It's easier to get it wrong than it can be to get it right. This is where a professional can help you with the process --avoiding multiple trips to the store to return what doesn't work and try again…and again…and sometimes just giving up because you don't know what exactly isn't working. We have they eye and the experience to help you achieve the look you are after without the frustration that comes with trial and error. So let's take a look at the rest of the main floor and you can see what I mean!
From the mood boards we showed them for the living room, she loved the gray chairs and the tufted ottoman both from the Magnolia Home collection. He loved the metal and wood shelving units we found at Urban Barn, which created a lovely juxtaposition with the classic fireplace. We chose a modern rug in the neutral gray tones and brought in some color with the leather sofa that they both loved. We could have gone with more of the South American look with black and white woven cushions, but what worked better were these gorgeous lumbar cushions I found at Homesense. They continued the French curves of the side chairs and added the perfect amount of feminine to the straight lines of the sofa. Perfection!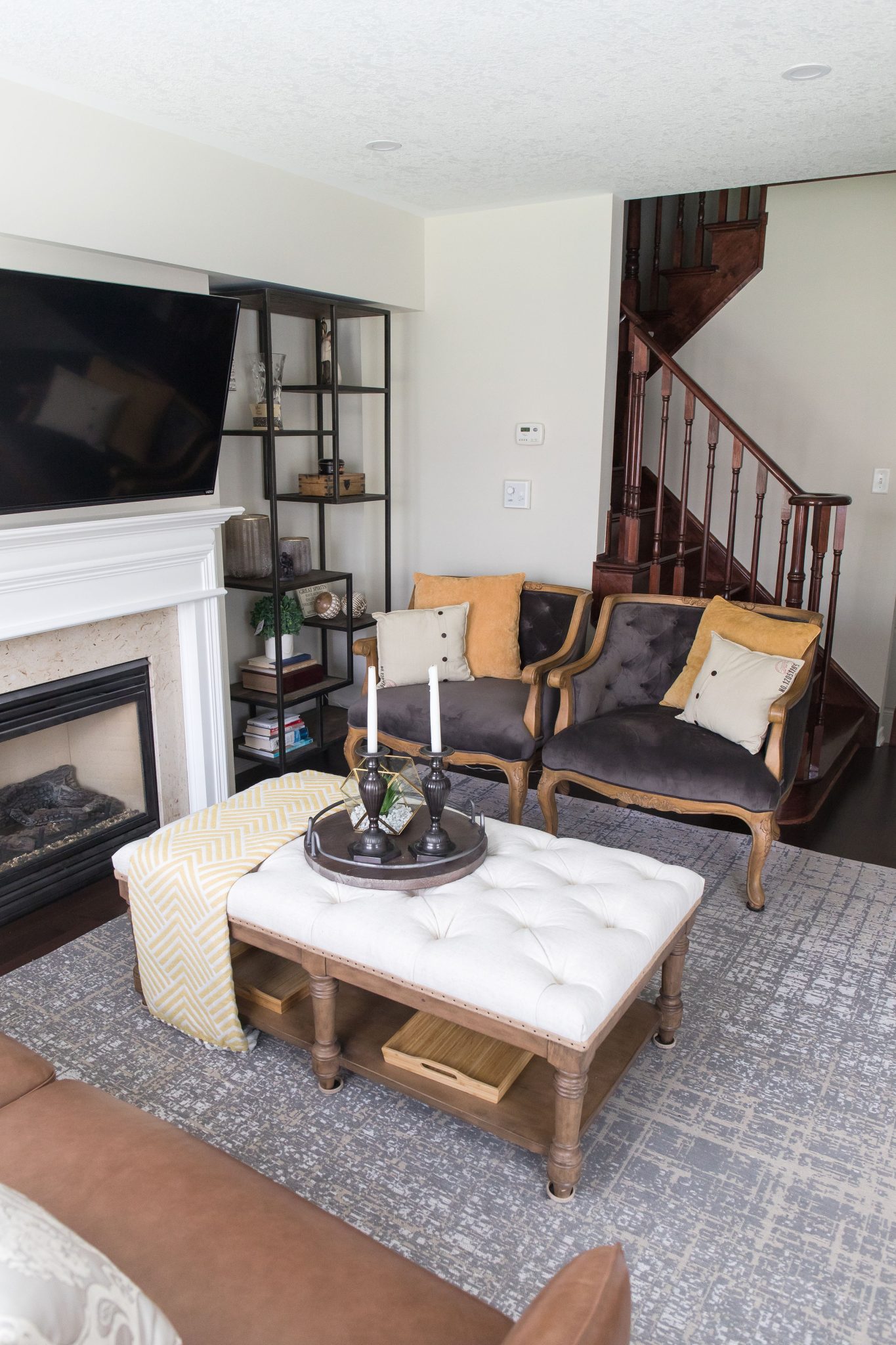 Can you see it?
Calm. Neutral. Unfussy. Classic.
A touch of modern, a touch of French, a zest of South America.
Their personal style exemplified in their home.
And my work is done!
P.S. The AMAZING photography in this post was done by Pam at Ten West Photography. To say that I was pleased with her work is an understatement! I absolutely loved how well she captured every room--the details and the overall space. She was so easy to work with so if you ever need a photographer, she comes highly recommended by me!
P.S. 2 We also did some work on their Master bedroom and all the bathrooms in the house were revamped…and they are gorgeous! Stay tuned for Part 2 where we show you the reveal of these spaces as well!
Never miss an update!
Sign up now for our Quarterly Design in Real Life Newsletter & receive a FREE gift!
Not only will you keep up to date with all our articles, you'll also be eligible to download our
Designer's Style Guide:
5 Keys to Make Every Room Feel Like Home
For Free!