My home's Kitchen Design Ideas
Do I stay or do I go? This mental debate has been on my mind for at least 2 years. We bought our house in the Crown Point Neighborhood of Hamilton 6 years ago and we absolutely LOVE living here. We love our street, our neighbours, the close proximity to schools, small businesses and chain stores alike. We love older homes and the character they have…the old wood, leaded glass windows, and inlaid floors. But the one room I wish I could change is our rather small kitchen; it is about 12' x 8' and that's it!  I cook all our meals on this 24" x 24" section of counter space and no matter how hard I try, it almost always looks messy. There is no pantry, no room for an island, and although it is functional, we are constantly tripping over each other in the morning…Every. Single. Day! A new kitchen design would go a long way in making us feel more comfortable as a family to stay put rather than having to move.
Do you feel like your home is "missing something" but aren't sure what that is?
5 Keys to Make Every Room Feel Like Home
Yours FREE when you subscribe to my Newsletter!
We knew when we bought the house that the small size of the kitchen would be a "live-with-it" kind of thing. It was our first house so naturally we didn't expect to get everything on our wish list! I was happy that at least we had the means to update it and add our own touch. Even with the extra counter space we added as well as the addition of a dishwasher, there are elements of the current kitchen design that I feel like I can't live with for another five + years.
For one, our "pantry" is the lower corner cupboard and I frequently have to get down on hands and knees to reach for items at the back. I also have boxes that hold our extra utensils as there just isn't enough space in the drawers for these items.
The cereal is over the fridge and has a roll out drawer; this is helpful, but as I am vertically challenged, if the cereal containers aren't "just so" they go out of reach or fall over—which drives me crazy! And it is also out of reach for the kids so I always have to get it all out for them…not promoting the idea of independence which they are at an appropriate age to handle.
The aforementioned lack of counter space makes cooking with one of the kids a challenge. And if they all want to participate in a batch of cookies it turns into a pushing nightmare and someone ends up crying…not the family time I envision!
I am not a good do-the-dishes-right-away kind of mom. They pile up rather quickly and even when I have spent 45 minutes tidying everything up perfectly, an hour later it's a mess again. Or at least it feels that way 😊
The garbage and recycling areas are by the back door and in plain sight. It would be *so nice* to have it hidden away under the counter, but there just isn't space!

So naturally, as an Interior Designer, I go through these phases of "what would I do if I could renovate?" Do I have any other options for layout or design? What if we put on an addition? How would that change this room? Do we just extend the kitchen, or do we add on to the adjacent dining room as well? Is it worth it? Will it eat up too much of our already tiny yard? Will it really meet our needs in the end or will we still want to move in 5 years? So. Many. Questions. Gah!

I should add, the most obvious option in most people's eye would be to remove the wall between the kitchen and dining room, put in an island, and have a more open space. Looks great, but we can't do that. Firstly, we love to have the kitchen more closed off so when it is on the messy side, it isn't in plain view. That would drive both of us crazy! The other massive reason is that dividing wall is the ONLY space on the main floor where we can put the solid wood, antique sideboard that was our first furniture purchase as a married couple and a piece we are planning to keep till our dying day!

The only way I could REALLY know would be to draw up some plans and try every available option…just shoot the proverbial breeze of kitchen design ideas with no real limitations of budget…and just SEE. So, I went to the Ikea website and started dreaming. To be honest, I was kind of surprised that what I thought I would like, I actually didn't…and that I actually had more options than I initially realized. I worked and reworked the plans several times before I settled on the kitchen designs I am showing you below; planning a kitchen is no small feat and can take a lot of creativity to get all the *wishes* checked off the list! Take a look!

What our kitchen design is like now:
The only change with this plan is the microwave cabinet on the dividing wall. We currently have a china cabinet of sorts that holds our microwave and kettle as well as some additional baking supplies and small appliances. This cabinet has more storage…so if we do keep things as they are it might be something to consider! It does protrude 24" rather than the 17" cabinet we have now, but I think we could work around that.
Option 1: Extend Kitchen & Dining Room
As our yard is rather small as well, I don't want to eat up a bunch of space with a large addition; so I decided on adding an extra 4 feet, and then minimized the deck space to stairs down to ground level. With the addition of the extra four feet, the kitchen design still remains long and narrow, but I was able to switch around the location of the appliances to create a better work flow, add in tonnes of additional storage space, and yet keep the division between the kitchen and dining room so there is space for our sideboard.
As the entire back wall of the house would be removed, I knew I could play around with window and door placement. I kept the small window in the kitchen but added in French doors and extra side windows in the dining room to bring in more light overall and create a sunroom look. I have always dreamed of having a main floor sunroom!!!
The negative of this design is that it is still pretty similar to our current kitchen, so it isn't really a dramatic change visually to what we have now. I think I could live with that though! Moving the exterior door to the dining room could also mean that this area falls prey to shoes, mud, and all the other backyard things that come through the back door. I know it would be a challenge to keep that area from looking messy, but we'd have to figure out a way! There is the possibility of adding a cabinet by one of the French doors that is more of a window seat to store kids shoes and backyard stuff…it may be something to consider 😊
On a positive note, this plan doubles my work zone from 24" to 48", and also gives space for the garbage station under the sink; there are plenty more drawers for all those extra kitchen utensils as well. This design plan was my husband's favorite as he thought the extra space would allow us to host more family gatherings and also be enough space to make the every day life more manageable.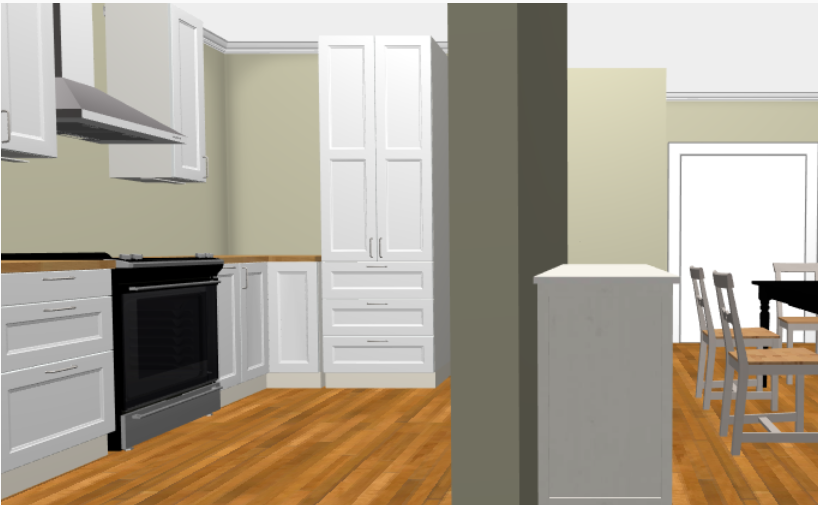 Option 2: Really think outside the box
For this kitchen design option I really pulled aside limitations and just went for it functionally and creatively. Even though I had said I didn't want to tear down the separating wall, I thought of trying to see what it would look like if we did. Putting the kitchen at the back of the house was something I wanted to consider as I haven't seen too many homes with our layout explore this option. Yes, it would be more open, but as the sink would be miles away from the living room I thought it wouldn't be as obvious if there were a few dishes around…perhaps that is wishful thinking but trying wouldn't hurt none the less!
I have to admit, my heart did a bit of a flippety-flop when I took a look at this plan in 3D. Loads of counter space, loads of light, an island, a pantry wall, even a closet by the back door for coats and shoes…sigh…it sure looks dreamy! The dining space is smaller, but with the roomy kitchen entertaining would still be very workable. The small room would be additional pantry storage and would also be a great place for the vacuum, broom, and other cleaning things that are stored elsewhere. I even created a perfect spot for the sideboard!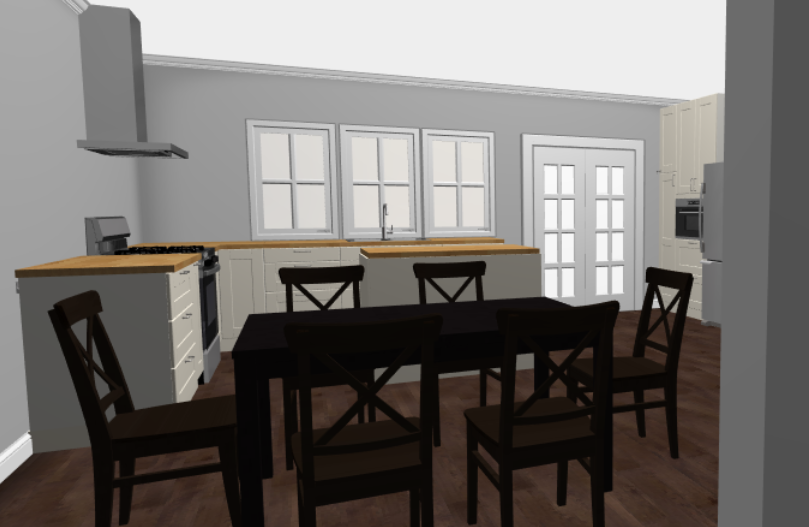 So, I put all the plans together and showed my hubby our amazing options. He took one very brief look at this kitchen design and said…
"NOPE. It's too open and we don't want that. "
All the things that made me get so excited didn't have the same effect on him…he much preferred Option 1. Sigh…oh well…it sure was fun dreaming it up 😊
So where does this leave me now?
Well…to be honest, dreaming is one thing…finding out how much this kitchen design will actually cost us is another! The next step would be to show these plans to a General Contractor and get a quote; we plan to reach out to a few and see what they have to say. Once more firm numbers are in we will really get serious and make this big decision. Our family has never gone through a renovation of this size so all things must be considered! We also want to be conscious of the value this adds to the house and not over investing in an addition only to find we don't get that back when it's time to sell.
I'd love to hear your thoughts on these kitchen design ideas too! Would you say to keep things as they are and consider moving to something bigger? Or do you like one of the plan options better and think we should explore staying? I'm still 50-50 on this one so let's see if your comments tip us one way or the other!
One more note: These plans were done without all the details as they were just for me and not client-standard-perfection. Some cabinets/walls etc. were not put in or done exactly right but I hope you got the idea!
Never miss an update!
Sign up now for our Quarterly Design in Real Life Newsletter & receive a FREE gift!
Not only will you keep up to date with all our articles, you'll also be eligible to download our
Designer's Style Guide:
5 Keys to Make Every Room Feel Like Home
For Free!