Update your Home with these 5 Designer Tips: Newport Drive Reveal Part 2
Many of us will spend hours and hours watching design shows trying to find ways to freshen up our homes and make them look like the latest and greatest celebrity or blogger's recent transformation. But at the same time, we look, we dream, and we try to apply what we see…but not always with the same jaw dropping results. We could blame it on the budget (or lack thereof). We could blame it on how easy TV makes everything look. We could blame it on our lack of knowing where to find all those gorgeous items. But really, there are some key designer tips that you can use to update your home without renovating that CAN bring about Oooo's and Ahhhh's from friends and family…but most importantly to you! You live there and want to love your home every single day!
So, what is the secret, you ask?
Well…There isn't one! I am going to show you how I implemented these simple steps on a Master bedroom and bath transformation we completed for our Newport Drive Project Reveal. With a few simple changes you can update your home and elevate your space to whole new heights!
Do you feel like your home is "missing something" but aren't sure what that is?
5 Keys to Make Every Room Feel Like Home
Yours FREE when you subscribe to my Newsletter!
Now you may remember the main floor of our #NewportDrive project that we featured a while back, Injecting Personal Style to your Home: Newport Drive Reveal Part 1  and how we transformed this home with a mix of masculine and feminine, neutral and vibrant color from homeowners that were from Colombia and Canada (and made it all work beautifully together)!  In the second floor of this home renovation, however, we didn't do any major changes. We used the furniture they had, the flooring they had, didn't rip out any tiles or tubs. We kept all of it! But what we DID do was completely transform the feeling of these rooms by following these simple steps.
Ready to find the 5 Designer Tips to Update your Home? Well, here we go.
1. The Transforming Power of Paint
Painting a room is one of the easiest ways to bring about a major transformation. I know, I know, this is no big "secret", but it always amazes me what changing one singular thing can do for a space! When we started, this room was beige. Plain, uninteresting beige and it brought zero style factor to the Master Bedroom.
I knew what it needed was some atmosphere and the way to achieve that was to paint it a moody color. Now, there was no other colors in the rest of the house. The main floor had neutrals with small bursts yellow in the accessories (seriously, if you haven't read the post, you need to!) So, you may ask, "is it okay to paint the bedrooms in an entirely different color?
My answer is "Yes! Absolutely!"
We chose Amsterdam AF-550, and honestly, it gave the room exactly what it needed, without having to spend a small fortune. Color has a completely transformative effect on the senses, so choosing this calm shade of blue worked well with the other colors already in the house, but also provided a cocooning feeling that just made the room feel cozy and inviting.
When it came to the bathroom, it wasn't a massive space, but the vanity was builder basic and everything else just seemed so blah as a result. Here is a before picture, just so you can see exactly what I am talking about, but I will share more on this further down, so keep reading!
2. Lighting is Jewelry for the Home
You know when you have a killer black dress (that shows things off in just the right way) and you pull out a set of earrings or a glittery necklace, put them on, and walk with confidence because you KNOW you're gonna capture the eye of everyone in the room? That is the effect that lighting has on a space. Choosing the right fixture to update your home may seem easy, but honestly, I see so many people struggle in this area! The right lighting is the finishing touch (like the fashion story above) and enhances everything else going on in the room. I have a lot more I could say about this but that is for another post on another day!
Now, in this Master bedroom, we didn't want a hugely glam light fixture, but at the same time, the lines of the furniture were on the masculine side. Black leather with dark wood didn't really speak to the lady of the house, but we didn't want to replace it either. We needed to find lighting that added some shimmer but not so much that the man of the house couldn't live with it. The light that was there did the job…but again was a builder basic item that with a simple switch, would bring an element of beauty and style to the space. We selected a gorgeous 17" wide crystal ceiling mount fixture that was just plain gorgeous. It added the sparkle we were looking for without it being too over the top!
Now I have to say, the size here really mattered. A 12" fixture would have been too small. A 15" fixture would have been too small. Because of the size of the space, in order for it to properly work with the scale of the room, it needed to be big. You don't want to spend money on a fixture that just disappears in the room. You want it to stand out and be noticed…and that is primarily why we chose THIS particular light fixture.
The only other lighting we have in the room are the table lamps. Again, I have to point out that having accessories that enhance the space, complementing the finishes you are using, and being in the right proportion with the nightstand as well as the height of the bed, are all things that need to be considered. If the lamps are too small, too big, or look really generic, they just won't add the oomph that you need! As a rule, the lamp should either be taller than the headboard, or lower by a few inches, just NOT the same height if at all possible!
These lamps reflected the shimmer of the light fixture and contrasted perfectly with the wood and masculine features of the furniture, without looking overdone or too "fancy pansy".
3. Replace Items that don't work with your Vision
Remember those bathroom vanities I mentioned earlier? Here is the perfect example of how changing out ONE key thing when you update your home makes everything else make so much (better) sense! In all the bathrooms in the house, the vanities were replaced to provide increased function (who doesn't love drawers!!) and also update the rooms considerably.
We chose a painted vanity with a stone countertop in a creamy beige color. We updated the mirror and the lighting, and honestly the change was COMPLETELY transforming! The tiles didn't look at all dated anymore. The existing bathtub like it was meant to be there. No tearing out of any single thing, except for the vanity and wall mounted mirror (hardly counts as demo)!!!
In the bedroom, the clients already owned an Ikea dresser, and had another dresser that didn't quite fit the space properly as it covered part of the window. I suggested they find another home for the larger dresser and replace it with the exact same one from Ikea, bringing in symmetry to the space, and finishing it off in a way that made a lot more sense visually. These small changes made a huge impact. They don't have to cost a fortune, but in making choices that better reflected their ultimate vision we used their budget to the best advantage.
4. Add layers to your Space
Now some people would just stop after completing the first three steps. New paint color, new lighting, get rid of stuff that doesn't work in the space. Complete, right?
Sorry, but no.
There is another step that will make updating your home feel like it's really YOU, like it's comfortable, like it is truly finished, and that, my friends, is layers.
"What do layers consist of," you ask?
Area rugs, drapery, pillows, throws, plants, baskets…all these items add in layers and layers of personality. Of warmth. Of color. Of details that would be missing if you just left them out.
I have seen some people who go crazy at this stage and overdo it with the accessories; but at the same time, I also see people who do too little and the room just looks "meh". When I am designing a room, rather than really filing the space a with a bunch of pretty "stuff" I choose accessories to direct your eye exactly where I want it to go.
In this Master bedroom, the bed is the focal point, so I chose a piece of art that was almost the width of the bed. I chose soft colors. I chose something that wasn't too tall because I liked the cleaner lines that a horizontal piece would provide versus choosing two or three pictures in a row.
At the base of the bed, we put a small runner to give some softness underfoot. Custom Drapery was installed to add additional texture and also absorb sound. The bed was layered with shams, decorative cushions, and two showstopper pillows that add a color jolt to the room. Honestly, those two pillows make my heart so happy! They add JUST the right feminine touch that brings out one of the colors in the artwork, contrasts with the blue walls, and are still crisp and contemporary. Design win!
Adding in layers is an important step in making a room feel complete, cohesive, and can be a game changer in bringing in additional color, texture, and enveloping the senses. The right pillows can make or break a room…yes, it's true! Adding in plants brings life. Hanging drapery adds coziness and provides additional pattern (even if it's subtle) as well as sound absorption. Area rugs ground the space and really soften up those wood floors! You can even layer them on top of broadloom or use more than one carpet to add dimension. All these elements work to update your home, don't require full out renovation, and gives your room the makeover you dreamed about!
5. Make it Personal
This is going to be different for every person but making your space personal to you is key (in my mind) to every room transformation. It is the difference of the look of a model home or showroom, versus it feeling like HOME. Sure, you can go to the local big box store or online marketplace, and buy vases, pictures, and accessories that look nice. But let me suggest that you also layer in pieces that have meaning to you. Here are some suggestions:
Maybe it's images of a place you have visited (or dream of going to one day).
Maybe it's displaying an item you received as a gift or bought on vacation.
Maybe its framed photos of important moments in life.
Maybe it's something you bought when you were shopping with your girlfriend from this great shop in…. (fill in the blank).
All those items add in moments where your heart smiles. Moments that tell your story. Moments that bring aspirations of dreams you have, things you love, and glimpses into the unique person that you are. Every room needs a good dose of THAT.
Bonus: Determine your Focal Point
Now as we are working on a bedroom here, it is only natural to assume that the bed is the distinct feature in this space. But when it comes to other rooms in your house, finding the focal point may not be as easy as you think! When working on a room design, it is very important to think to yourself and determine what it is that you want people to notice first. Where do you want their eyes to go? What do you want them to see or really notice? Focal points can be really obvious, but they can also be not so in-your-face as you may think. I can write a blog post just on this topic alone, so I won't go into too much detail here, but I will say that in the process of deciding what to purchase to update your home you need to keep this thought in mind. Use Art, Area Rugs, bookshelves, or a fireplace to help bring in that focus, but also be willing to explore creative ideas…sometimes it is just how you arrange the furniture can really help (or not) the overall focus of the room.
If you implement these 5 Designer Tips to Update your home, I can promise you that your space will have been transformed! No renovating. No mess. No overwhelm.
Now on to the rest of the #Newport Drive Reveal! I have just showed you glimpses of this space, but here are the completed Master Bedroom and Ensuite Bath. The homeowners were so happy with the results of this Room Makeover and so am I. It brings joy to my heart every time to see clients so happy with the results of the transformation! Exceeding their expectations is my goal Every. Single. Time.
If you look at this Project and think that you'd love to see a similar update to your home and want the help of a professional to save you time and the stress of putting this all together, please feel free to reach out! We are now offering Virtual Consultations to clients; read more about it here in our blog post The Value of a Virtual Consultation. It doesn't have to be a difficult process! Let us help you take the right steps to make your home YOUR haven!
Newport Drive Project Reveal: Part 2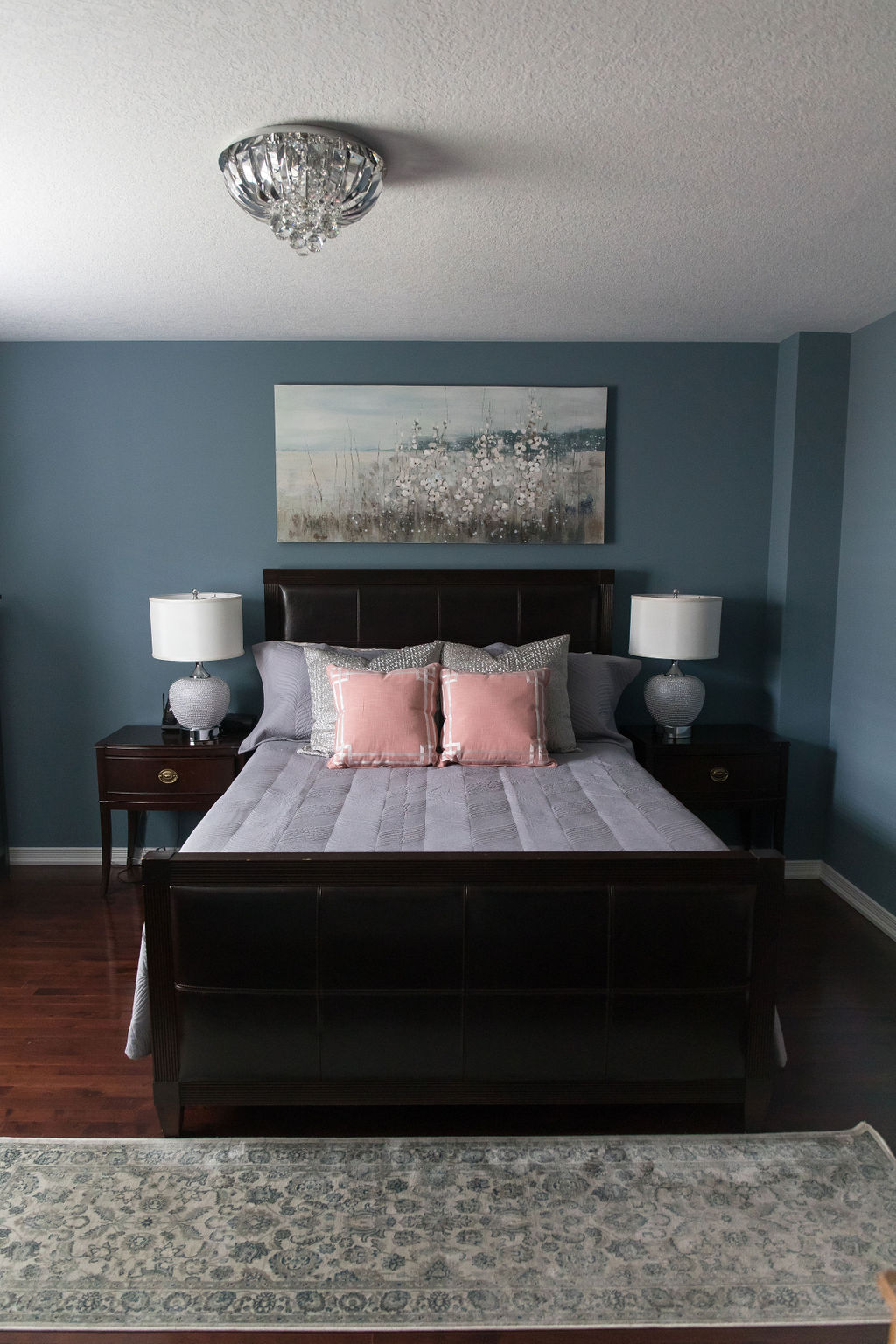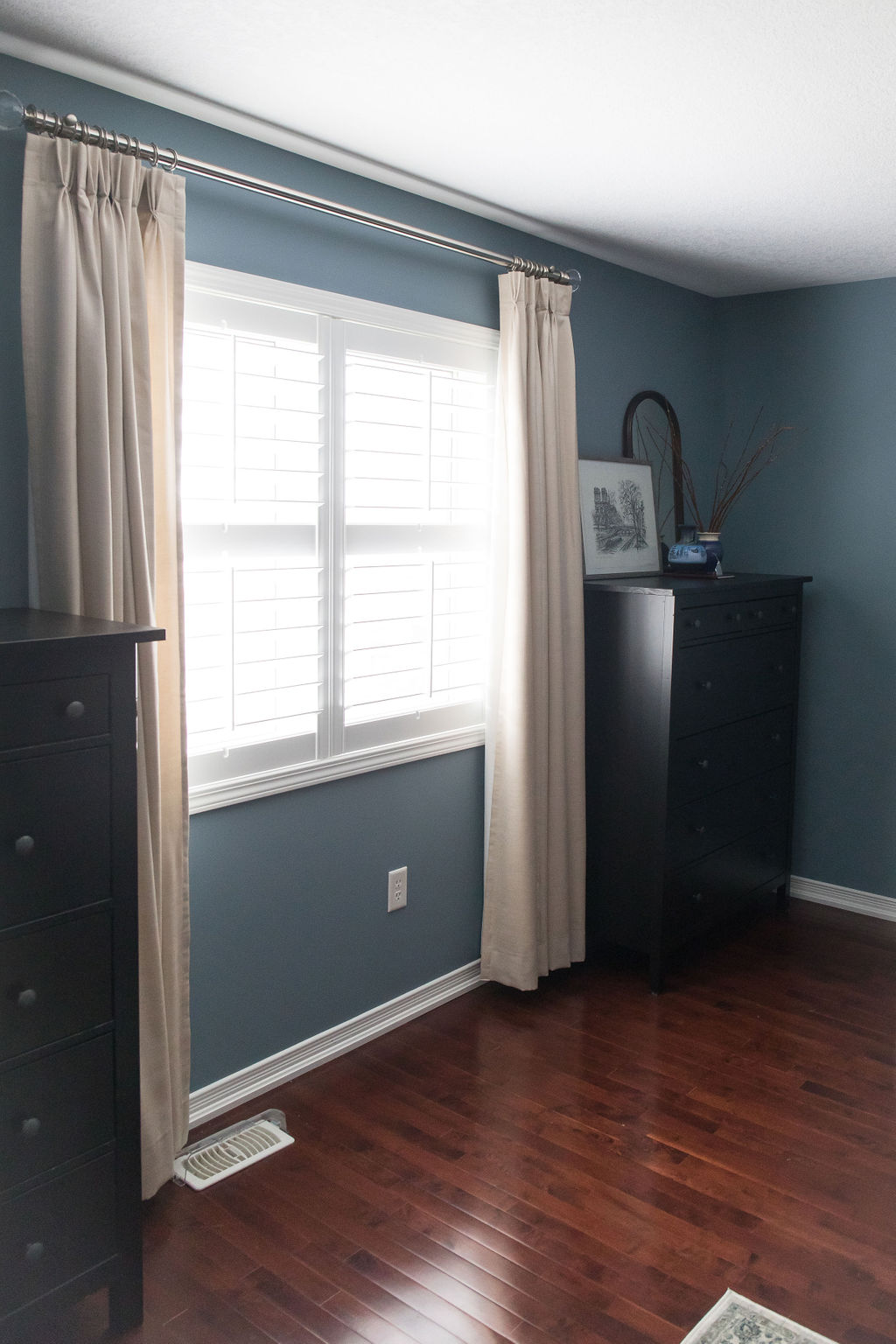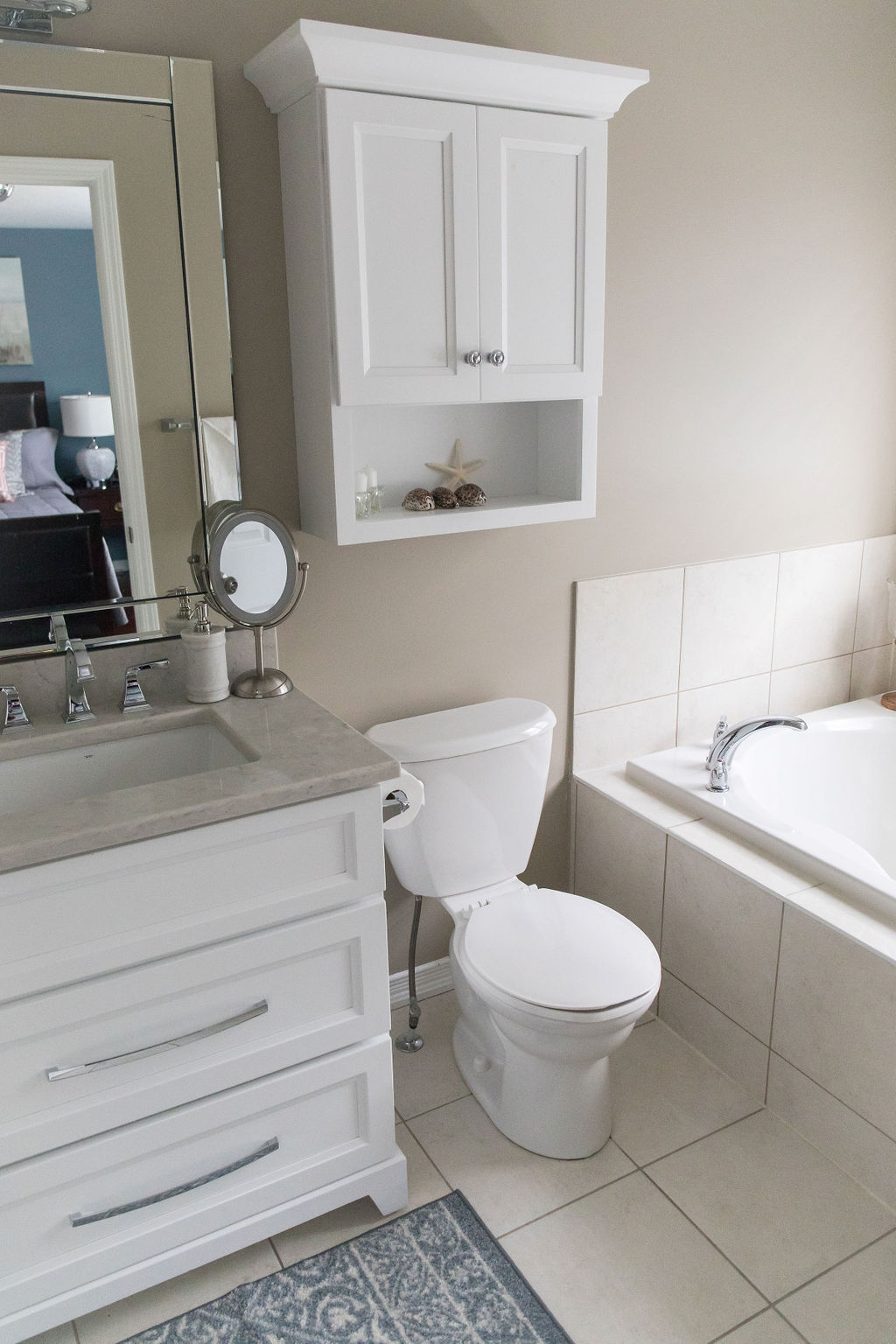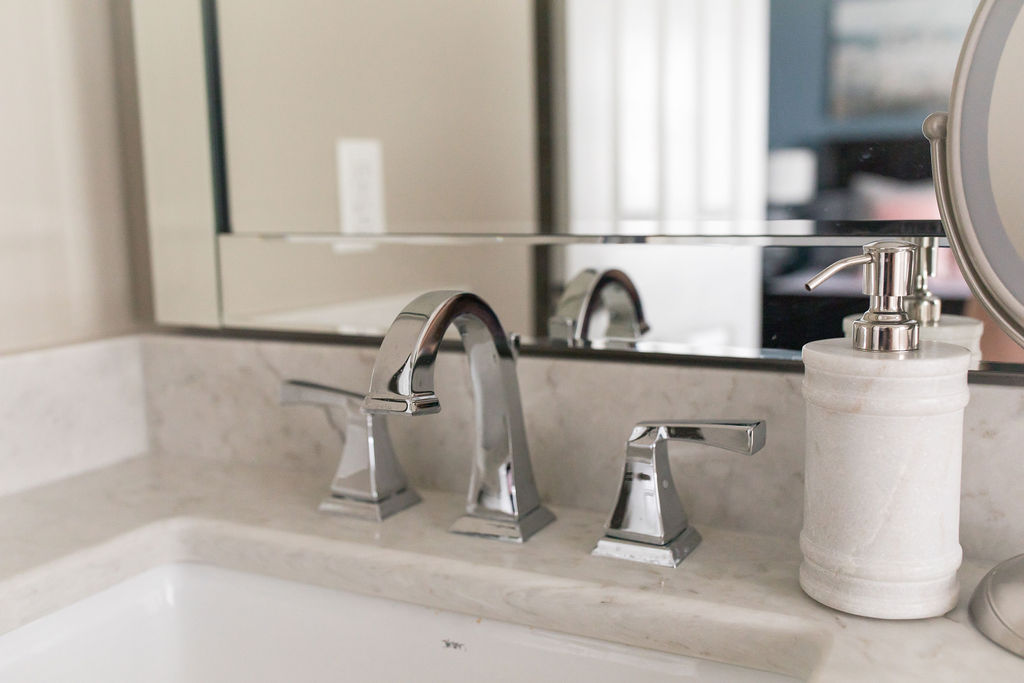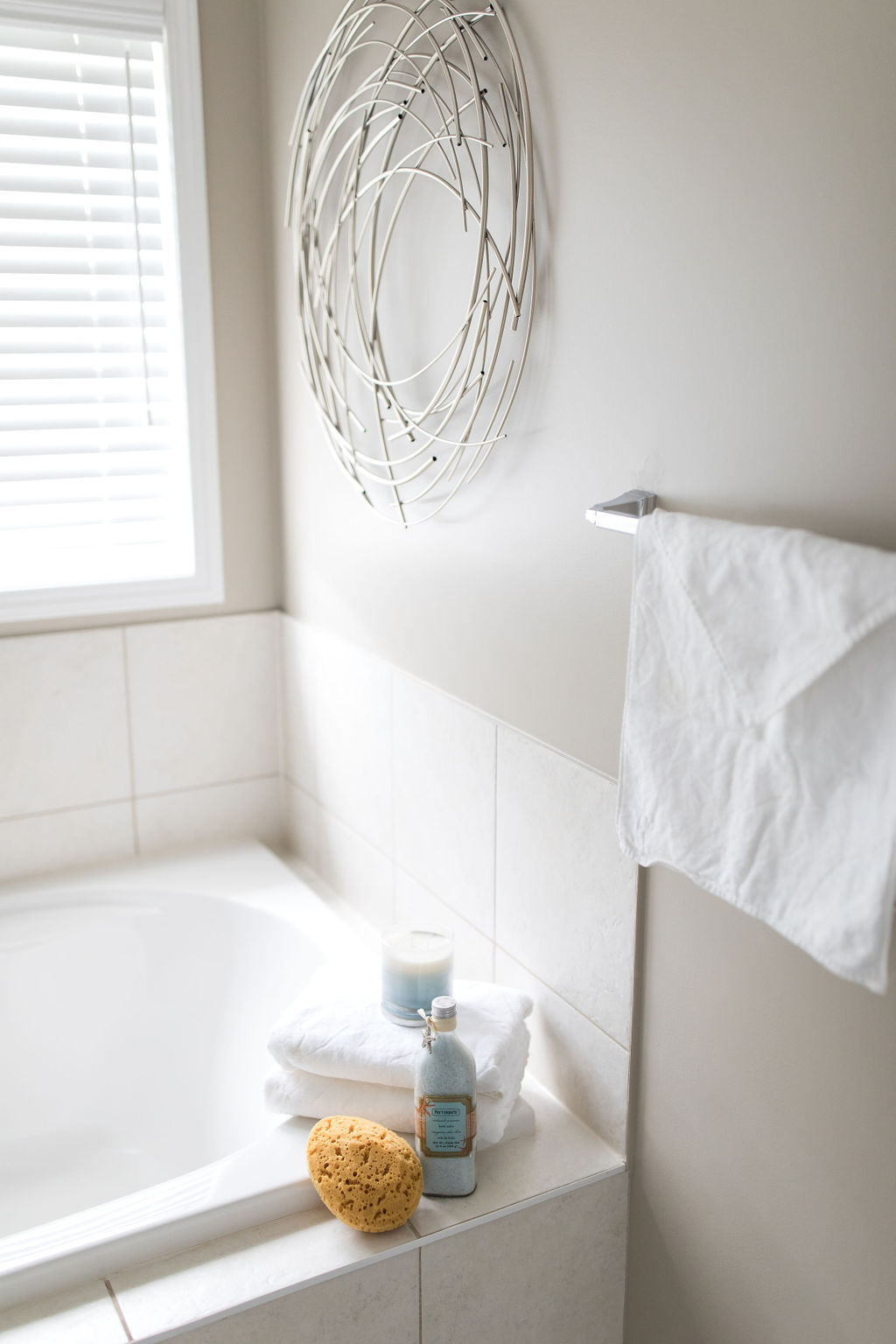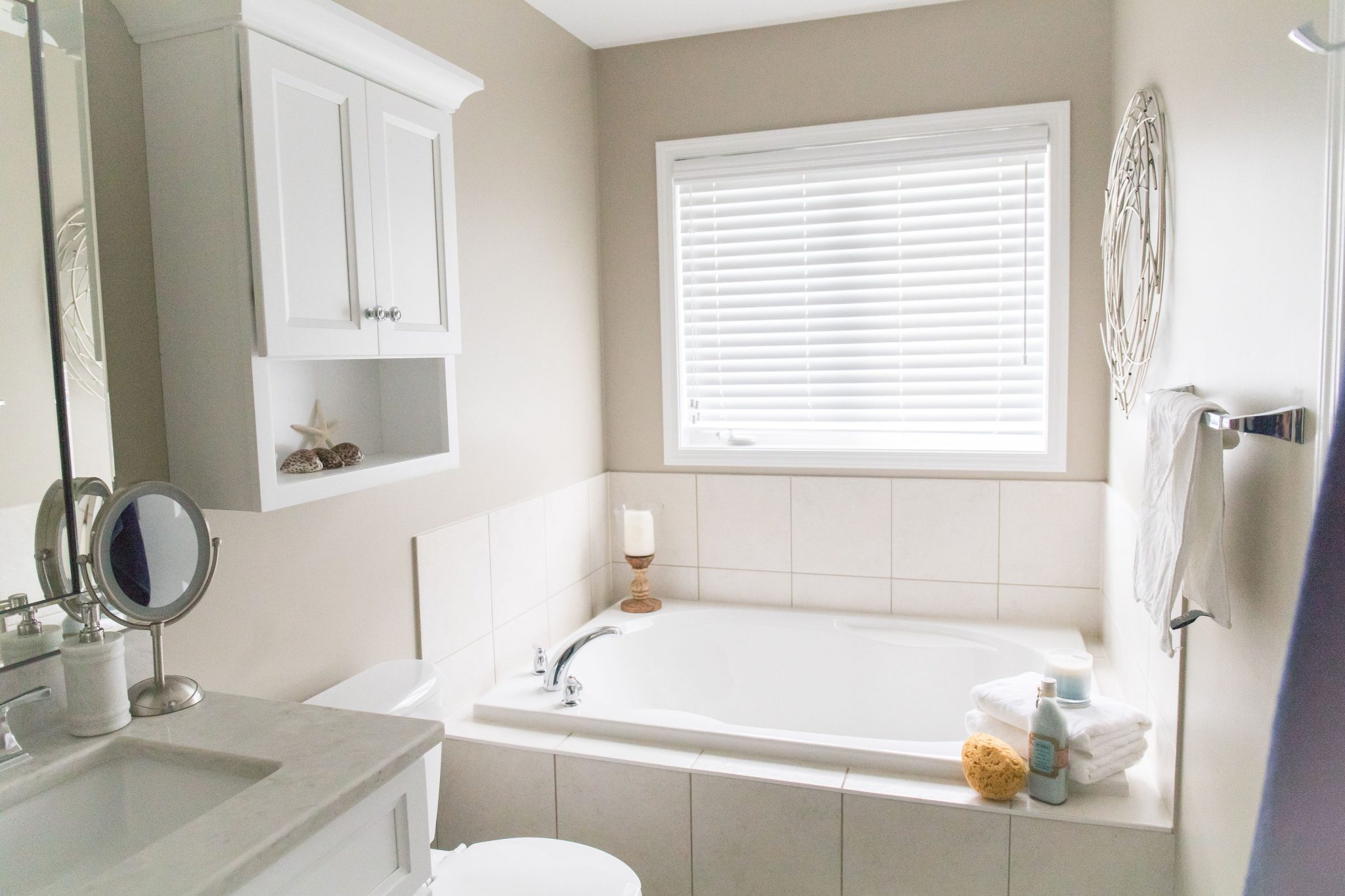 Never miss an update!
Sign up now for our Quarterly Design in Real Life Newsletter & receive a FREE gift!
Not only will you keep up to date with all our articles, you'll also be eligible to download our
Designer's Style Guide:
5 Keys to Make Every Room Feel Like Home
For Free!